New telemedicine services will support staff, improve patient outcomes, and expand access to care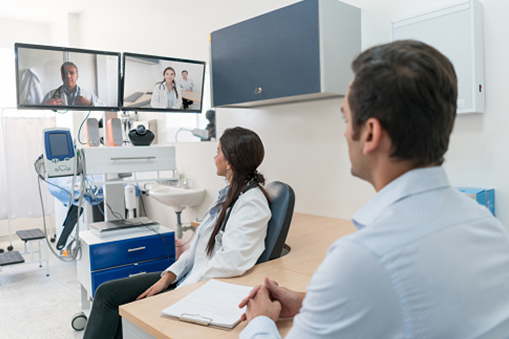 Madison County Health Care System (MCHCS) has entered into a partnership with Avel eCare–a telemedicine provider that supports hospitals around the country–to receive virtual hospitalist services. This new partnership grants us 24/7 connection to the Avel team of board-certified physicians and nurses with a goal of providing consistent, high-quality care to hospitalized general medical and surgical patients.
Once fully implemented, local staff will have the ability to call Avel's experts to seek out advice, take advantage of their experience, and embrace a collaborative approach to delivering care. This allows MCHCS to augment the local care team with access to supportive resources to assist with complex behavioral health partners and crisis situations. Patients can be assured that eCare connections are always secure and confidential, and that the service comes at no additional cost to them.
"Madison County Health Care System is deeply committed to ensuring members of our local community receive the best care and attention possible. We have a trusted medical team here in Madison County who offer excellent care and our goal is to make sure these individuals have the right resources, support, and tools at their disposal to continue their great work – a goal that is met by partnering with Avel eCare," said Marcia Hendricks, CEO at Madison County Health Care System.
Ever since it was first founded in 1993 to provide expanded specialty care access to rural areas, Avel eCare has gone on to develop one of the most robust telemedicine networks in the United States. Its team of doctors, nurses, clinicians, and other medical professionals are all deeply committed to their mission of delivering high quality care to patients when and where it is needed, and currently serve more than 650 facilities across 32 states. In all, Avel has helped local care teams treat millions of patients.
"We look forward to partnering with staff at MCHCS to assist in delivering unmatched telemedicine services 24/7/365. Avel eCare couples sophisticated technology with a spirit of collaboration and partnership – all with the goal of improving access to quality health care," said Doug Duskin, CEO of Avel eCare.
To learn more about health care services at Madison County Health Care System, please visit www.madisonhealth.com.