Madison County Health Care System is an award-winning organization located just a half hour southwest of Des Moines in picturesque Winterset, home of the Bridges of Madison County and The Birthplace of John Wayne. A modern facility boasts of up-to-date equipment and a staff dedicated to providing outstanding service. Excellent schools and a high quality of life can be found in Madison County.
Madison County Health Care System staff members are also eligible to receive a referral bonus if they play a role in assisting in the recruitment and subsequent hiring and retention of new team members.
We provide a competitive and comprehensive compensation package including: PTO (Paid Time Off), IPERS (Iowa Public Employees Retirement System), reduced price meals and snacks, and a free on-site fitness facility for employees and their spouses.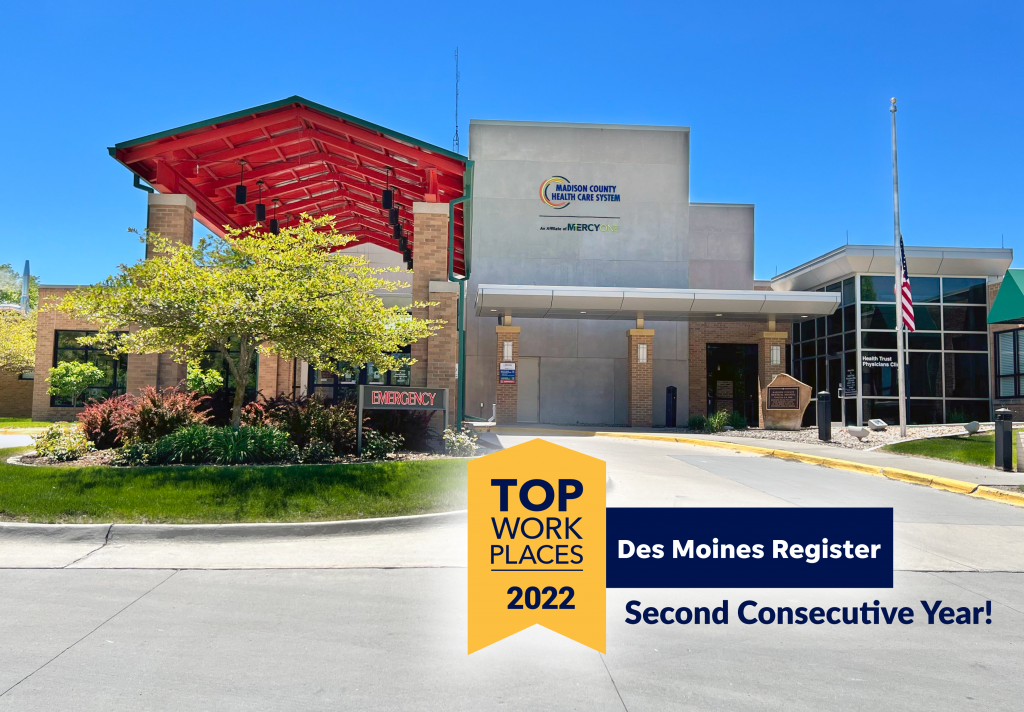 Madison County Health Care System (MCHCS) has been recognized as a 2022 Iowa Top Workplace by the Des Moines Register for the second consecutive year! The list is based solely on employee feedback gathered through a third-party survey administered by research partner Energage, LLC, a leading provider of technology-based employee engagement tools. The anonymous survey measures several aspects of workplace culture, including alignment, execution, and connection, just to name a few.
"During this very challenging time, Top Workplaces has proven to be a beacon of light for organizations, as well as a sign of resiliency and strong business performance," said Eric Rubino, Energage CEO. "When you give your employees a voice, you come together to navigate challenges and shape your path forward. Top Workplaces draw on real-time insights into what works best for their organization, so they can make informed decisions that have a positive impact on their people and their business."
We look forward to meeting dedicated professionals seeking career opportunities. Madison County Health Care System is an Equal Opportunity Employer and complies with applicable Federal civil rights laws and does not discriminate on the basis of race, color, national origin, age, disability, or sex.