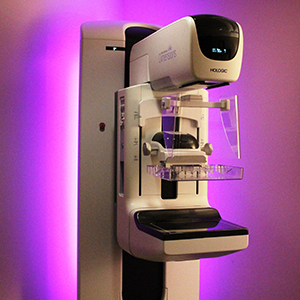 About Mammography
Mammograms are an imaging service performed to help detect breast cancer. It is often recommended that women begin to receive these screenings at regular intervals starting in their 40's. Your doctor will recommend a screening schedule that is right for you based on your age and any health concerns. Mammograms are performed both on women experiencing no symptoms to detect early breast cancer, as well as to help evaluate and diagnose breast disease for women who are experiencing symptoms. Women often experience some anxiety about their mammogram, but they are a standard health screening and should not be a cause for alarm. Regular mammograms help to detect breast cancer in the early stages when it is most easily treated.
At Madison County Health Care System, we offer digital mammography that has long been considered the gold standard. In August 2018, we also added 3D mammography capabilities with the Genius 3D Mammography exam utilizing cutting-edge technology from Hologic.
Why 3D Mammography
Hologic 3D Mammography technology offers many advancements over traditional 2D mammography, including a 41% increase in the detection of invasive breast cancers and a 29% increase in the detection of all breast cancers. The great detail and clarity of this technology also significantly reduces the number of women recalled for additional screening, which can be a source of stress for many.
Know Before You Go
Because this is a new technology, our Radiology and Imaging team recommends calling your insurance company prior to your appointment to find out how your carrier covers 3D mammography. You are also welcome to call the department at 462-5214 with any questions about the exam.